A new fullerene spin-on-carbon (SoC) hardmask material developed by Irresistible Materials Ltd (IM) and manufactured by Nano-C, Inc.
SoC Hardmasks are an increasingly key component of the microchip fabrication process. They are frequently used to improve the resists' selectivity to silicon during plasma etching, and as chip architectures become more complex the use of hardmasks to improve the aspect ratio of features in silicon is critical.
The IM SoC Hardmask is a high carbon fullerene based material that delivers breakthroughs in performance that enable users to pattern precise, high quality features at increasingly small dimensions. The material addresses needs in multiple applications, from next generation 3-D micro-chip designs, to MEMS, NEMS and the replacement of existing costly vapor deposition processes.
---
Material Uses

Enable ultra-high resolution (sub 20nm) devices
Replacement for amorphous carbon
Sub-micron MEMS & NEMS deep etching
3-D microchip design architectures
Multi-layer etch stacks

Material Attributes

High carbon content
High etch resistance
Sub 20nm resolution patterns
High aspect ratio features (>15:1 at 20nm)
Eliminates need for amorphous carbon
---
Tri-layer Etch Stack Process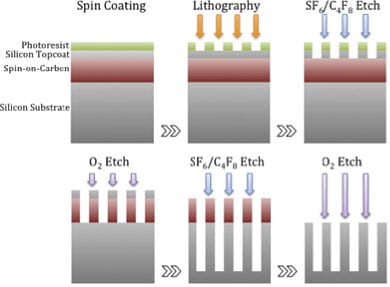 Example Pattern Images