Permanent Epoxy Photoresist for Pixel Grids in Electrowetting
In electrowetting, liquid surface tensions are modified by applying a field potential. With no voltage applied, colored oil lies flat between water and the electrode within a defined well. When a voltage is applied between the electrode and water, the tension changes and the water then forces the oil aside.
In electrowetting displays (EWD), the use of an active matrix TFT back-plane can control each pixel allowing for high speed and video content. Because electrowetting is low power, this is an attractive technology for many applications. Electrowetting displays can also be used in both reflective and transmissive modes and offer higher brightness compared with other reflective technologies.
Electrowetting is also used for a wide range of microfluidic lab-on-chip applications.
---
SU-8: Benefits/Attributes
Highly crosslinked system with high structural strength
High contrast with vertical sidewalls
High aspect ratio imaging
High fill factor pixel walls
Ability to adhere to fluoropolymers
Fast photospeeds for high volume manufacture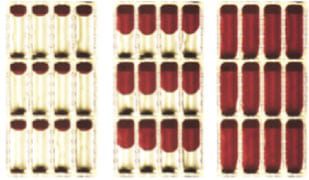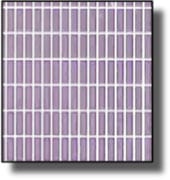 Courtesy of University of Cincinnati, Plastics Electronics 2010