Sacrificial Via Protection for TSV and MEMS Applications
The rapid expansion of 3D-WLP (wafer-level-packaging) and MEMS is accelerating the growth of high topography features and their integration with 3D-TSV technologies. A large number of technologies have been demonstrated with the common goal to create more functionality while occupying less real-estate.
One of the preferred processes for creating deep TSVs (through-silicon-vias) is the "via first" approach. This allows the TSVs to be etched before any expensive and critical CMOS processing. This method can impact later critical process stages and as a result thick sacrificial planarizing materials can be used to create a flat starting substrate that's pre-etched with protected TSVs. Illustrated here is the use of MicroChem via fill materials.
---
Benefits/Attributes
Materials specially designed as a spin-on polymer for sacrificial TSV filling and planarization
Silicon vias protected against subsequent processes
Easily removed using industry standard wet and dry chemistries
Single coat with void free filling
Thermally stable
Options for etch back process, wet, dry or CMP.
---
Process Flow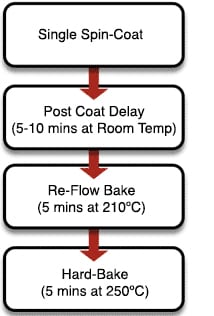 Strip Rate